Mann Heating and Air Conditioning is the premier provider of AC repair services in the New Jersey area. Our experienced technicians are highly trained and certified to address all of your cooling needs and will provide prompt and reliable service. We understand the importance of having a functioning AC unit and will work to get your system up and running as quickly as possible. Our technicians are proud to offer a wide range of services, including inspection, repair, maintenance, and installation of all types of air conditioners. We strive to provide our customers with the highest level of satisfaction and will work diligently to ensure that your system is running at peak efficiency. Contact us today to schedule an appointment and get your AC back up and running.
At Mann Heating & Air Conditioning, we provide the highest quality AC repair services. Our experienced technicians will ensure your system is repaired with precision and accuracy. Our comprehensive process begins with an assessment of your home or business needs and providing recommendations on the best system to meet those needs. We then provide a full system repair and follow-up services to ensure your system is running smoothly. With Mann Heating & Air Conditioning, you can rest assured that you are receiving the best AC repair services on the market.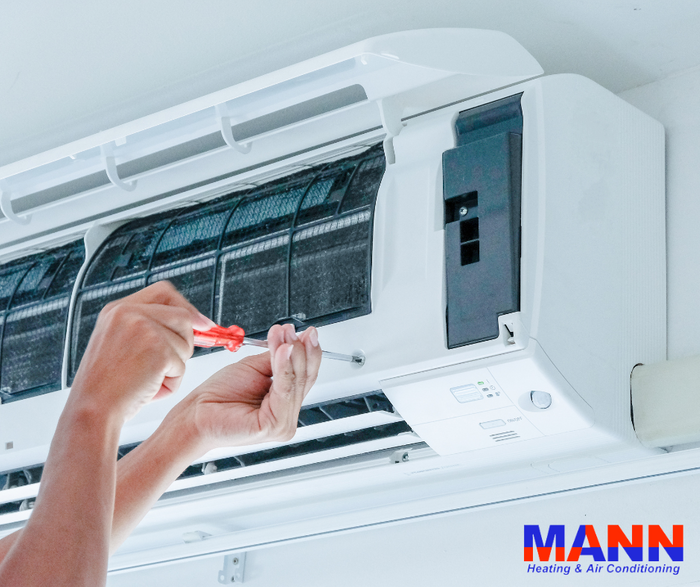 Top Rated Local AC Repair Services
Mann Heating and Air Conditioning is your go-to source for reliable and affordable AC repair services. We have been providing excellent service to our customers since our inception, and our team of experienced technicians is dedicated to providing the best service possible. Our staff is knowledgeable and experienced in all aspects of AC repair and maintenance. We use only the highest quality parts and materials when repairing your air conditioning units. We also offer a satisfaction guarantee on all of our repair services. We strive to provide the best customer experience possible, and we guarantee that you will be satisfied with the results. With our top-rated local AC repair services, you can count on us to get the job done right the first time.
Full View Of Our AC Services
Here's a brief overview of the comprehensive air conditioning services we offer:

We provide expert air conditioning installation services for both homes and businesses. We work with our clients' unique needs, preferences, and budgets to ensure the installation process proceeds smoothly and delivers optimal results.

If your air conditioning unit is not functioning optimally, we can help you with our reliable and efficient AC repair services. Our trained technicians can diagnose the issue and provide a suitable repair solution that ensures your AC unit functions correctly.

AC Maintenance
Regular AC maintenance is essential to ensure your air conditioning unit remains in top condition, improving energy efficiency and preventing costly breakdowns. Our team of professionals can create personalized maintenance plans tailored to your needs to keep your AC unit functioning well for years.

Mini Split Systems
These small air conditioning units are ideal for spaces such as guest houses, workshops, or additions. Our team has the experience and expertise in installing and repairing mini-split systems to keep you cool and comfortable at all times.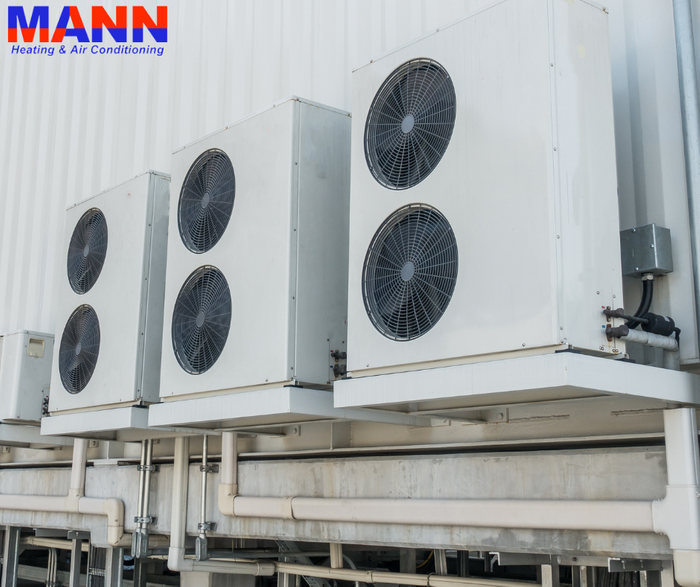 Signs Of Needing Your AC Repaired
Mann Heating and Air Conditioning is here to help if you're experiencing problems with your air conditioning system. Signs that you may need repair include
Reduced cooling
Strange noises coming from the system
Spike in energy bills.
These could all be indicators of a bigger problem. Our experienced technicians can diagnose and repair any issue you may have, helping you get your air conditioning system back up and running quickly and efficiently. Don't wait for the problem to get worse, get a quote today and let us help you get your air conditioning running at its best.
Our HVAC Services
If you're looking for AC or heating services in Central NJ, look no further than Mann Heating & Air Conditioning. We offer comprehensive HVAC services that are essential to keeping your house running efficiently and extending its lifespan. These HVAC services include filter replacement, coil cleaning, thermostat calibration, AC repair, AC installs, furnace repairs, and so much more. We also provide maintenance tune-ups to help prevent future problems with your system. With our team of experienced professionals, you can rest assured that your HVAC services and needs are in the best hands. Contact us today to learn more about our HVAC services
24/7 Emergency Heating Services
Experts You Can Trust
If you're looking for a reputable company that has been providing exceptional services to the residents and businesses of Florida for years, turn to Mann's Heating & Air Conditioning. We pride ourselves on our commitment to quality, reliability, and excellent customer service.
Comprehensive Services
At Mann's Heating & Air Conditioning, we offer a range of air conditioning services such as installation, repair, maintenance, and mini-split systems. Their comprehensive services cater to the individual needs of each client, ensuring that all your air conditioning needs are met.
Quality Workmanship
Mann's Heating & Air Conditioning is committed to delivering superior workmanship on every job. They use the highest quality materials and tools to ensure that every project is completed to the highest standard, ensuring long-lasting and reliable results.
Customer Satisfaction
Mann's Heating & Air Conditioning is passionate about making sure their clients are satisfied with our word. We put the needs of their clients first and always ensure their services are tailored to meet unique requirements, preferences, and budgets. To prove it, we offer a 100% satisfaction guarantee, giving clients peace of mind knowing they're working with a reliable and trustworthy company.
Affordable Pricing
Mann's Heating & Air Conditioning offers affordable pricing options that cater to every budget. To tailor to our community, we offer financing options to help clients get the services they need without breaking the bank and adding additional stress.
Mann Heating and Air Conditioning is your one-stop shop for all of your air conditioning needs. We are the top rated AC repair services in New Jersey and our team of experienced technicians are dedicated to providing you with the highest quality of customer service. We use only the latest tools and technology to ensure that your AC system is running optimally. From maintenance and repairs to installation, we can provide you with the best service possible. Contact us today to get started on your AC repair services.